Playa del Carmen, March 2006
Mike Powell, Diana Eignor, and Jeff Johnson
23 March - 1 April 2006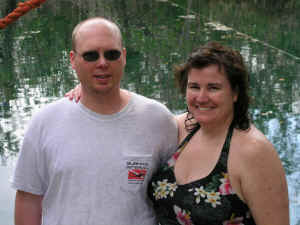 Mike and Diana
Trip Summary
Viewing the expanse of jungle, as we made our final approach into Cancun Airport, we couldn't help but imagine the possibility of undiscovered cenotes. The sky was blue with a few wispy clouds and the sun was bright and hot. The temperature was about 84F, which was a stark contrast to the 40's when we had left BWI at 6 AM.
We picked up our rental car and realized we were very rusty with any Spanish we knew. After a foray down the wrong way on a one-way street (it was unmarked), we made it to Highway 307 and headed toward Playa del Carmen. It took some adjustment in thinking, but Mike quickly became proficient at driving in Mexico, which basically involves passing anytime you want and playing chicken with oncoming traffic.
We got to our villa in Playa where we were warmly welcomed by Jeff Johnson and his family. We got tank rentals and air fills set up for the week, and made our preparations for week of diving.
This was some of the most amazing diving we have done. The water is clear blue and the caverns and caves are densely decorated with stalactites, stalagmites, columns, and flowstone. Over the week, we visited 5 different dive sites, which doesn't even begin to scratch the surface of the 460 miles of surveyed cave in the Riviera Maya. By the end of the trip, we were all beginning to make plans for a return in 2008. Can't Wait.!
Day 2: 24 March
Sak Aktun
Divers: Mike and Jeff
Max Depth: 40 ffw (cave), 28 ffw (cavern)
Water Temperature: 77F
Run Time: 99 min (cave), 47 min (cavern)
We dove the Grand Cenote in Sistema 'Sak Aktun', Mayan for "The White Cave". There are stairs down to the cenote and docks with ladders that made for an easy entry. We followed the mainline in and made the first jump to the Paso de Lagarto line (this jump having been recently shortened to about 70 feet). Followed the line past the snap-and-gap at Bosh Chen and headed toward Calimba. We made our turn close to Cenote Calimba with about 200 psi remaining before thirds. On the way back, we explored some of the side tunnels. When we made it back to open water, Diana geared up and we did a cavern dive. Grand Cenote is breathtaking. The walls are snowy white with beautiful columns that reminded Diana of the great white city of Gondor from Lord of the Rings (nerd alert). There is a large amount of flowstone and some of it had formed into shapes resembling high altars with the limestone flowing down like the teeth of a giant comb.
Day

3

:

25 March

Aktun Ha

Divers: Mike and Jeff

Max Depth: 65 ffw

Water Temperature: 77F

Run Time: 124 min

We dove Cenote Aktun Ha in Sistema 'Carwash'. It took some time to find the mainline because it was so far back, our primary reel jammed up, and we had to move the primary tie-off a couple times. Just about when we were ready to call it quits for the day, we finally found the mainline about 300 feet from our primary tie-off. We followed the mainline until we hit thirds. On the way back, we had plenty of gas so we jumped to the "wormhole" leading to the Room of Tears. There are beautiful white pillars and the ceiling is decorated with countless numbers of stalactites, ranging in size from a few inches to several feet long. The stalactites look like icicles dripping from the ceiling, and it was immediately apparent why this room was named the Room of Tears. We both were glad that we hadn't given up trying to find the mainline, as this was an incredible dive.
| | |
| --- | --- |
| | Jeff and Mike |
| | Jeff and the owner of Aktun Ha. |
Day 4: 26 March
Dos Ojos
Divers: Mike, Jeff, and Diana
Max Depth: 25 ffw (cave), 23 ffw (cavern)
Water Temperature: 77F
Run Time: 150 min (cave), 35 min (cavern)
We dove Cenote Dos Ojos West in Sistema "Dos Ojos". Jeff and Mike went in on the mainline, did a couple of jumps, and passed through many highly decorated rooms with gigantic columns and speleothems. Turned at about 60 minutes and explored side tunnels on the way out. Hit the primary tie-in at about 120 minutes and moved it to another line to explore. While she waited for us to return, Diana had the cenote all to herself, where she observed various species of lizards scurrying around, and many beautiful birds swooping in to their nests on cavern ceiling. A great place to meditate, it was no wonder the Mayans considered the cenotes sacred spots. When Mike and Jeff got back, Diana joined them for a cavern dive. The cavern is full of golden brown pillars, stalactites, and stalagmites. Jeff and Diana did an air sharing drill, and lights out. There was a weak, but noticeable flow in the cavern.
Day 5: 27 March
Sak Aktun
Divers: Mike, Jeff, and Diana
Max Depth: 40 ffw (cave), 28 ffw (cavern)
Water Temperature: 77F
Run Time: 123 min (cave), 45 min (cavern)
We had planned to dive Ponderosa, but were refused entrance at the gate. Apparently, you now have to have a registered guide in order to diver here. Going back to Grand Cenote was not a disappointment though because we had already thought of some jumps that we wanted to explore. We ran our primary from the open water to the mainline and jumped to Paso de Lagarto line for about 35 minutes and then turned to explore side tunnels and rooms on the way out. The first jump on the left on Paso de Lagarto led to a room with nice formations and huge pillars. The jump on the right went through a tunnel with flow towards Paso de Lagarto and had a large stalactite right in the middle of tunnel which finally opened to a breakdown room. When we got back to the Grand Cenote mainline, we continued to Cenote Ho Tul across the Coba Road from Grand Cenote. After we got back, Diana again joined us for a relaxing cavern dive.
Day 6: 28 March
We took the day off from diving and went to the Mayan ruins at Tulum. Headed towards the Coba Ruins and missed the turn on a rotary (again signs were down) and decided to road trip to Chichen Itza, in the middle of the Yucatan Penisula. We were on jungle roads going through tiny remote towns. Chichen Itza was amazing and gave us a better perspective on the Mayans but that is another trip report.
Day 7: 29 March
Chac Mool
Divers: Mike, Jeff, and Diana
Max Depth: 52 ffw (cave), 39 ffw (cavern)
Water Temperature: 77F
Run Time: 125 min and 5 min deco (cave), 35 min (cavern)
We had been trying to locate Chac Mool "The Jaguar Cave" for a few days, which proved to be difficult to find because the sign had been lost during Hurricane Wilma last year. But after asking around, we finally made it. We went in the side entrance and dove along the upstream mainline that skirts along a halocline toward Cenote Pakal. After about 300 feet, we entered a highly decorated dome room with large pillars and lots of small stalactites. We continued on and hit some breakdown rooms before turning at about 50 minutes and exploring jumps on the way back. On the first jump, we saw a cavefish and lots of cave amphipods and isopods. Got back and did a cavern dive with Diana. The cavern line runs between the downstream and upstream entrances. Going through the halocline was a surreal experience. While visibility within the halocline is greatly reduced, the freshwater above is crystal clear, as if you have entered into an airpocket. Jeff aptly described the sensation of diving above the halocline as flying above the clouds.
Day 8: 30 March
Aktun Ha
Divers: Mike, Jeff, and Diana
Max Depth: 60 ffw (cave), 41 ffw (cavern)
Water Temperature: 77F
Run Time: 63 min (cave), 30 min (cavern)
This was our last day for diving so we decided to hit two sites. First site was returning to Cenote Aktun Ha in Sistema 'Carwash'. Armed with a small digital camera, we decided to go back to the Room of Tears for a short dive, and then tour the cavern with Diana. Aktun Ha resembles a small lake and as you go in, the entire bottom is covered by aquatic vegetation and algae and tons of small tropical fish. You pass through some tree roots to get into the cavern area that is loaded with large sized stalactites and stalagmites.
Vaca Ha
Divers: Mike and Jeff
Max Depth: 66 ffw (cave)
Water Temperature: 77F
Run Time: 30 min (cave)
The second site was Sistema Vaca Ha (Cow Water) or as Diana renamed it 'Dump Site'. We found out the owner had passed away so unfortunately the area surrounding the cenote had not been watched and maintained so people had been dumping refuse from the hurricane (palm trees, old furniture, papers, wood). Mike and Jeff went down on a rickety ladder for the dive. There was another set of cave divers coming out so they moved over to the side and Mike saw lots of cow bones from those poor unfortunate cows that must have fallen in. Thus, the name 'Cow Water'. Entered through a restriction into a large spectacular room that is highly decorated. Despite our reservations about diving a dump site, this turned out to be one of the best dives of the trip.
Day 9: 31 March
Mike and Diana took the day off to snorkel and swim in the ocean, pack, and relax.
Day 10: 1 April
We returned to BWI on 1 April, where we were pleased to see 70 degree weather and somewhat sunny skies. It was great and we plan on returning March 2008.